Invisalign® in Lewisville, TX
---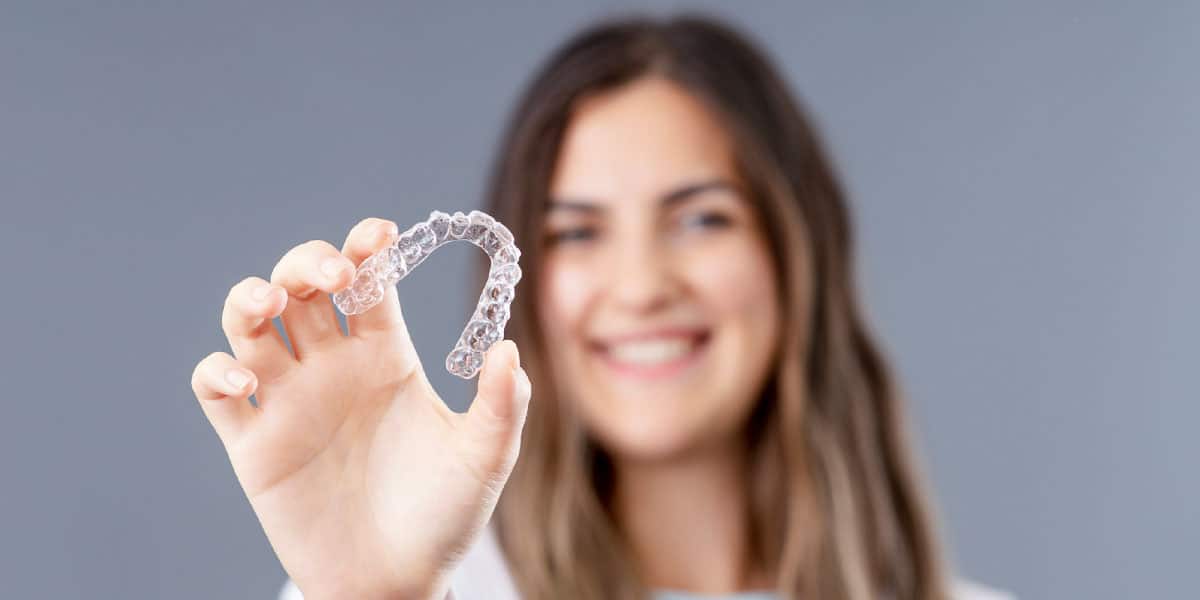 ---
Castle Hills 3D Orthodontics provides Invisalign clear aligners for adults and teens in Lewisville, TX. Call 469-598-1700 to learn more and schedule your appointment.
---
Why Choose Invisalign®?
---
Virtually Invisible

Invisalign® clear aligners are virtually invisible, so no one will know that you know you are transforming your smile.

Comfortable and Convenient

Invisalign® removable aligners are created using SmartTrack® material that provides a comfortable yet effective fit that allows you to continue your daily routines without any inconvenience.

Expedited Treatment

With frequent changing of your Invisalign® aligners, you may achieve your orthodontic goals even quicker than with traditional braces.

More Effective Treatment, Proven Results

Invisalign® can be used to treat a variety of orthodontic issues such as cross bites, crowding, open bites, gapped teeth, overbites, and underbites. Invisalign®'s SmartTrack® material and SmartForce® features have been proven to enhance the orthodontic movement provided by Invisalign® clear aligners.
---
Invisalign® Treatment Process
---
Scan Your Smile

First, we will create an accurate 3D digital impression of your smile using our iTero® digital scanner.

Create a Treatment Plan

Using Invisalign®'s ClinCheck® software, we will work to create a plan for the transformation of your smile.

Preview your Smile

We can even show you the shifting of your smile from beginning to end, even before treatment has begun.

Create the Aligners

Once your digital plan is finalized, your custom aligners are made using our state-of-the-art printing process.

Wear Your Aligners

Wear your Invisalign® clear aligners 20 to 22 hours a day for the best results, and take them out only to eat, brush, and floss. While wearing your aligners as prescribed, your teeth will gradually and gently shift into alignment.
---
Invisalign® Frequently Asked Questions
How much does Invisalign cost in Dallas?
---
We offer a FREE consultation and among the best prices in Dallas for Invisalign/clear aligners. Our price starts at $1999 for simple cases. 
Why is Invisalign more expensive than braces?
---
The technology behind Invisalign/clear aligners makes the lab fee more expensive than traditional metal braces.
How much do I pay for Invisalign per month?
---
Invisalign treatment could last between a few months to one year or more depending on the severity of the bite and the amount of tooth alignment required. Ask us about our in-house affordable treatment plans and other payment options to suit your budget.
Does insurance cover Invisalign?
---
Most insurances cover Invisalign treatment the same way they cover braces. We can help by contacting your insurance company to verify eligibility and the percentage that insurance will pay for your orthodontic treatment.
How long does it take for Invisalign to straighten teeth?
---
Invisalign treatment could last between a few months to more than one year. In general, people start to feel movement after wearing the aligners for 2-3 months.
Do you wear Invisalign when you sleep?
---
One advantage of Invisalign is that it is transparent and invisible to the naked eye. The manufacturer recommends wearing the aligners not only at night but also during the day for 20-22 hours.
Is Invisalign affordable?
---
Yes. At our practice, we offer flexible payment plans designed to suit your budget.
Do braces or Invisalign work faster?
---
The advantage of braces over Invisalign is that it is fixed and not removable. In general, braces work faster to close spaces between the teeth.
What is the average cost of Invisalign without insurance?
---
The cost of Invisalign depends on the severity of the case, the amount of tooth movement needed, and the number of trays required for treatment. Our prices start at $1999 for simple Invisalign cases. Contact us today to learn more and receive a consultation. 
---

---

---